---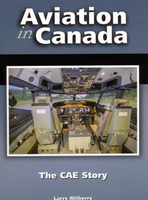 Milberry. One of the publisher's all time favourites, few comparable industry books ever have been done. Founded in 1947, CAE begins with CF-100, Argus & CF-104 "flight sims". It also tackles everything from consumer products to radar station contracts, overhauls C-119s, F-84s, Viscounts, and manufactures L-1011 & C-135 components. CAE profits in forestry, flops with bushplanes and some acquisitions, makes auto parts, and designs control systems for power stations & naval vessels. It designs the robotic hand controller for the Canadarm orbiting today on the ISS. This spectacular book brings you to the present with CAE owing the lion's share of the commercial flight sim market. It's also producing visual & motion systems, and running schools & flight sim centres worldwide. This is one of the grandest aerospace histories, The CAE Story honours the company's great pioneers + its generations of employees.
CAE's late CEO, the renowned Douglas Reekie, commented, "You deserve a great deal of credit for undertaking this task and for doing it so well. There should be a medal for you for perseverance."
Former Commander of Canada's air force, General W.K. Carr, DFC, put it in his famously succinct way: "The book is fantastic"!
392 pages, hardcover, large format, 100s of photos, glossary, bibliography, index.
Canadian orders CDN$79.50 all-in, USA CDN$85.00 all-in, International CDN$100.00 all-in surface mail