---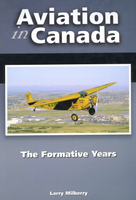 Following right behind Volume 1 Aviation in Canada: The Pioneer Decades, CANAV is excited to introduce you to Volume 2 — Aviation in Canada: The Formative Years. Here is another "must have" book for any sincere fan of Canada's great aviation heritage. Make sure you have a copy of each of these incomparable books to enjoy in the years ahead! And don't buy into all the babble about the book being dead . you'll know that civilization is on the brink when the anti-book internet yahoos win you over with that bolony! Start up or add to your personal aviation library just to stick it in their corporate face.
So what's with The Formative Years? This lovely assemblage of paper, ink and glue picks up where Pioneer Decades finishes: 1918 — the end of WWI. No sooner are Canada's wartime airmen back home than they start carving out niches in the peacetime aviation environment. You'll read how they start by barnstorming in war surplus JN-4s and how, when planes start crashing, Ottawa gets wise to the need for air regulations.
Chapter 1 features the exciting 1919 New York – Toronto air race, organized to get Canada - US aviation interests moving. More than 50 wartime planes take part, flown by such huge figures as W.G. Barker, VC. Chapter 2 is an overview of global developments, where Canadians needed to be informed. Ottawa watched events by the day, making very careful notes. The first aerial crossing of the Atlantic is made by the airship R.34, then the US Navy NC-4 stages through Halifax and Newfoundland on a successful Atlantic trip. Disastrous British attempts follow, two airmen are rescued at sea after being given up as lost, then Alcock and Brown complete their incredible flight from Newfoundland. The 2005 re-enactment of that great event, the first trans-Canada flight in 1920, and other important events are all covered.
Chapter 3 gets into the rise of commercial aviation, as the airplane finds more sophisticated roles. The first airliner visits Canada in 1921, then forestry becomes the catalyst for the rise of important Quebec and Ontario operations, especially Laurentide Air Service. The strange case of the Keng Wah flying school (training Chinese nationals in Saskatoon) is told. Further chapters detail the earliest plans for air service down the Mackenzie Valley and the famous Imperial Oil expedition to Fort Norman in 1921.
Chapter 6 deals with the famous 1926 McKee-Godfrey trans-Canada flight, the Red Lake gold rush, the rise of Western Canada Airways and other air carriers. War surplus planes give way to newer types, especially the revolutionary Fairchilds, Fokkers and Junkers. The first great Arctic expeditions are described in fresh detail, including the 1929 MacAlpine Expedition missing for weeks on the tundra, then rescued by air. Many key personalities and companies are covered as never before, using new data from log books and diaries. Typical are the biographies of such mammoth aviation figures as W.J. McDonough and J.P. Culliton, airmen about whom few so far have heard. A chapter is set aside for McDonough, whose archive recently surfaced after decades in the shadows — his career is described from WWI to postwar days on the US Air Mail, trail blazing in the Arabian desert, pioneering in UK civil aviation, air racing and, finally, making his mark over Canadian bush and tundra. Another chapter deals with the achievements of the Ontario Provincial Air Service so, if great flying boats like the HS-2L appeal to you, here's a chapter in which to revel.
The Formative Years deals with every other facet of the rise of aviation in post-WWI Canada — the first airports, such great companies as Canadian Airways, General Airways, Mackenzie Air Service, Spence-McDonough and Wings Ltd., the impact of the Depression, the ups and downs of the air mail, all the famous aircraft including such giants of the day as the Ford Trimotor and Ju.52, and the ever-present dangers — harrowing crashes, strandings and rescues from James Bay to mountainous
You have come to expect only the best from CANAV, and Formative Years maintains the standard. Besides its vast text with lists, maps, bibliography and index, the book is a vibrant gallery of 450 photographs — aircraft, people, incidents and places galore. Anyone with the remotest appreciation of Canada's astonishing past will revel in this unique Centennial of Flight publication. See the Booklist to order your copy of Formative Years — a real Centennial of Flight treat!

Covers the birth of commercial aviation – how it all began here. Barnstorming, bush flying, Canada's first airlines, airmail, the great trans-Atlantic flights, drama in bush & tundra.
Writes Bob Merrick in COPA Flight: "... a formidable addition to our ... knowledge of how important aviation has been to Canada's development ... a first-rate, exciting chronicle."
Says Britain's Aircraft Magazine, "Authoritative -- Larry Milberry is your guarantee here -- readable, well-produced".
223 pages, 450 photos, hard cover, large format, glossary, bibliography, index.
Canadian orders CDN$64.50 all-in, USA CDN$70.00 all-in, International CDN$85.00 all-in surface mail