---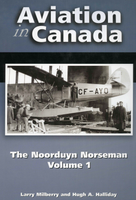 Milberry and Halliday
Here is one of the world's most in-depth airplane "bios" and one in which any fan will revel. From early years in design to WWII. The transition to peace as the Norseman makes itself useful with bush, coast and Arctic operators.
Writes Scale Aviation Modeller: "Packed with the kind of photographic material you won't find on the internet … well-researched and comprehensive."
Our readers add: "I like the weaving of anecdotes with the narrative." "What airplane fan couldn't love it! I'm straining at the chocks for the next instalment. "
An old-time northern pilot puts it this way: "The hi-lite of my Christmas was the arrival of your magnificent Norseman Vol. I! It is fabulous, and I am absorbing every millimeter of it!"
232 pages, hardcover, large format, 450+ photos, glossary, bibliography, index.
Canadian orders CDN$64.50 all-in, USA CDN$70.00 all-in, International CDN$85.00 all-in surface mail