---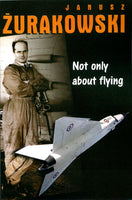 At long last here is the life story of the great Avro Arrow test pilot, Jan Zurakowski. Originally written by Jan in Polish, finally it's in English. This is what we've been awaiting for decades: Jan's story from his boyhood, education and early years in the Polish Air Force. With the fall of Poland in 1939, Jan joins thousands of Poles escaping to the UK to continue to fight. The RAF/Polish Hurricane squadrons in the Battle of Britain excel, Jan included.

Postwar comes Jan's test flying period first at Gloster with the Meteor and Javelin jet fighters, then in Canada at Avro. Jan flies many test programs with the CF-100, then adds to his renown by making the first flight of the CF-105 Arrow. This exciting period suddenly ends with the demise of the Arrow program. The book finishes with Jan's post-Avro years. He keeps up his interest in flying, but focuses on family and the famous Zurakowski summer resort in Barry's Bay, Ontario.

224 pages, softcover, photos.

Only 10 copies available.